Link Amazon, eBay, Walmart, and 70+ marketplace channels
Spot sales opportunities and risks proactively

Save hours on administrative tasks

Stay one step ahead of your clients
Why do marketplace agencies choose MerchantSpring?
Save time across your client portfolio with faster access to insights that matter.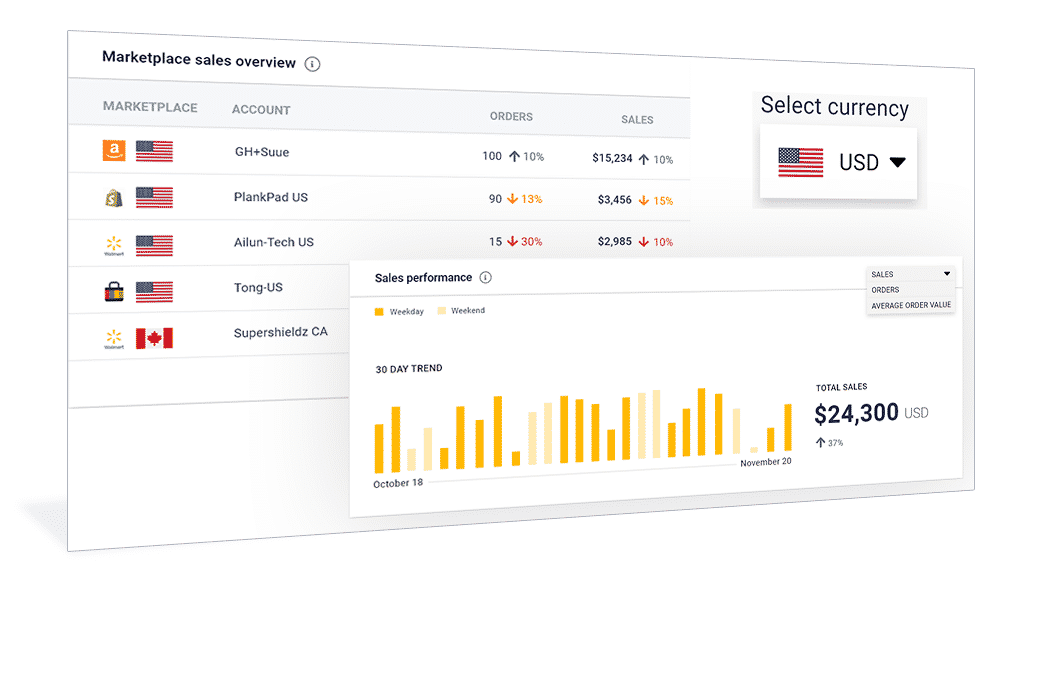 A single view of your agency
All Amazon markets including advertising
All eBay markets including eBay Motors
Walmart, BestBuy, CDiscount, and 70+ others
Homogenous reporting across platforms
Multi-language support
Currency translation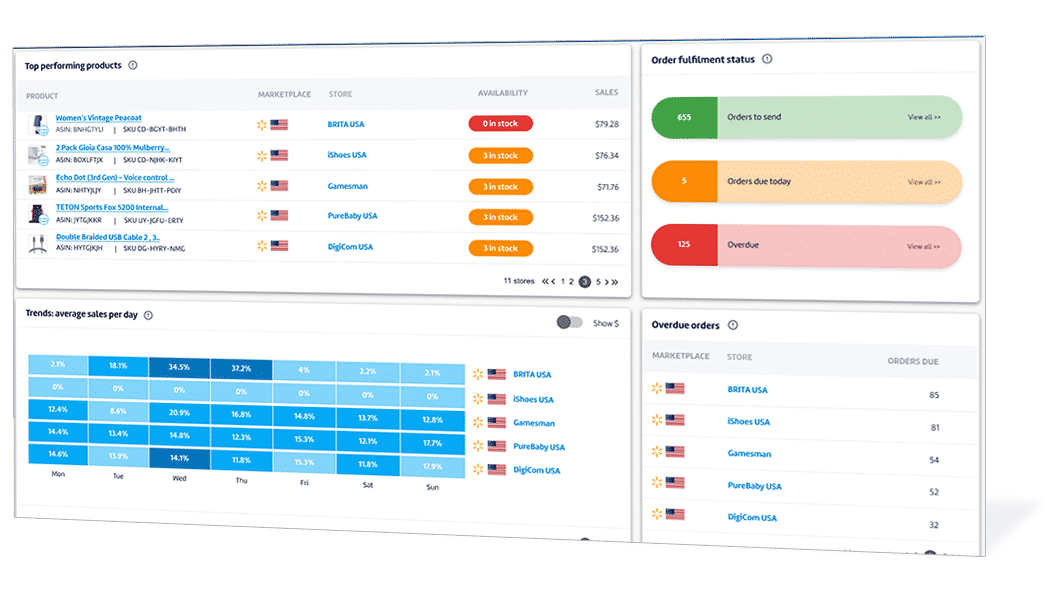 The insights and reports integration software lacks
Relative portfolio performance
Daily sales trends
Buy box win rate and competitors
Week-to-date performance vs expectations
Seller health monitoring and alerts
PPC Campaign performance
Shipping performance and risks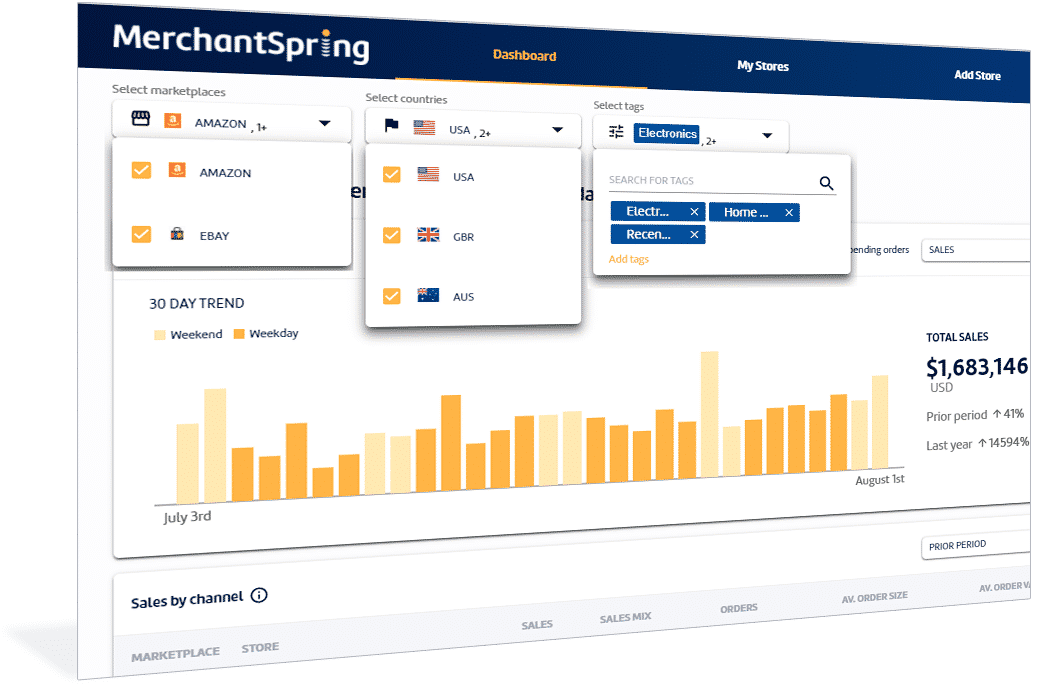 Flexibility to meet your needs
Group and filter by country, platform, client or custom attribute
Export directly to Excel
Multi-currency, multi-region
Custom date ranges
Mobile-friendly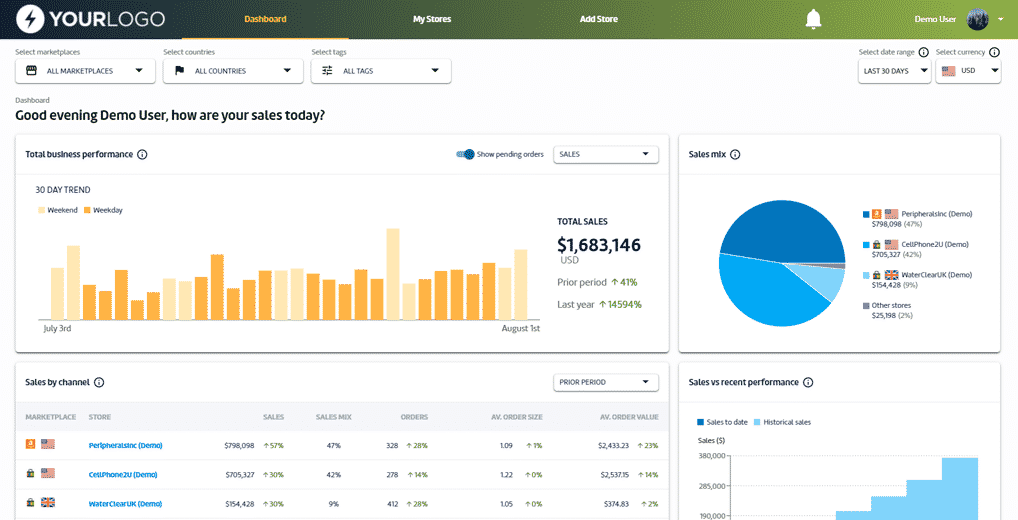 White-label options (Enterprise only)
Custom logo / CSS
Multi-user / client access
Weekly client reports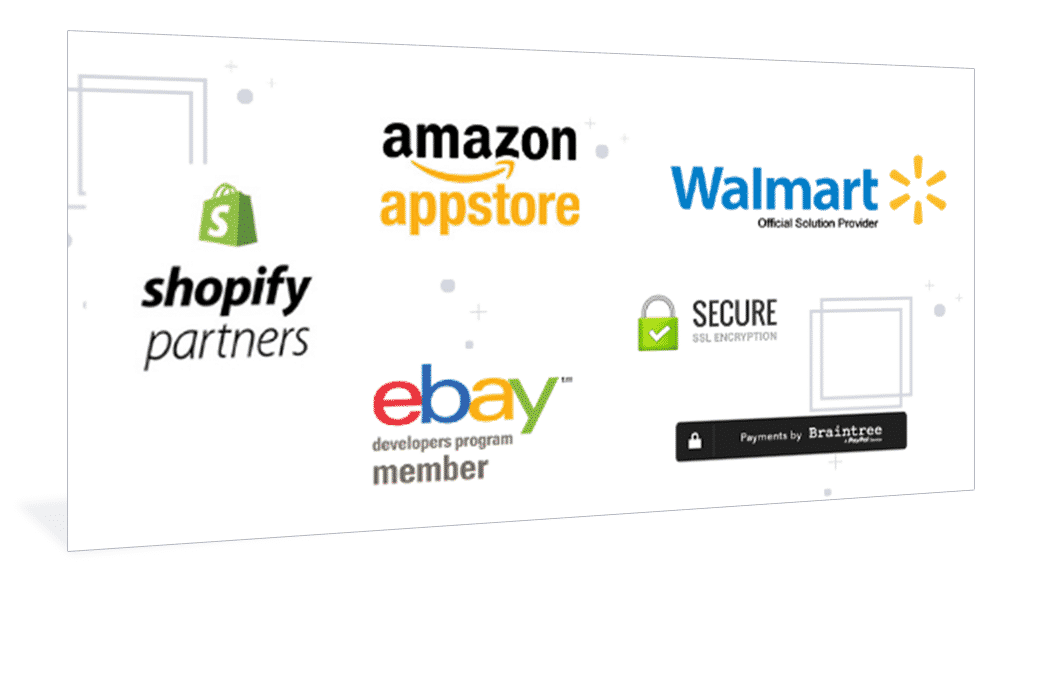 Secure and scalable
Native marketplace integration
Official Amazon, eBay, Walmart, Shopify Developer
Full end-to-end encryption
Scalable US-based infrastructure
Connect unlimited stores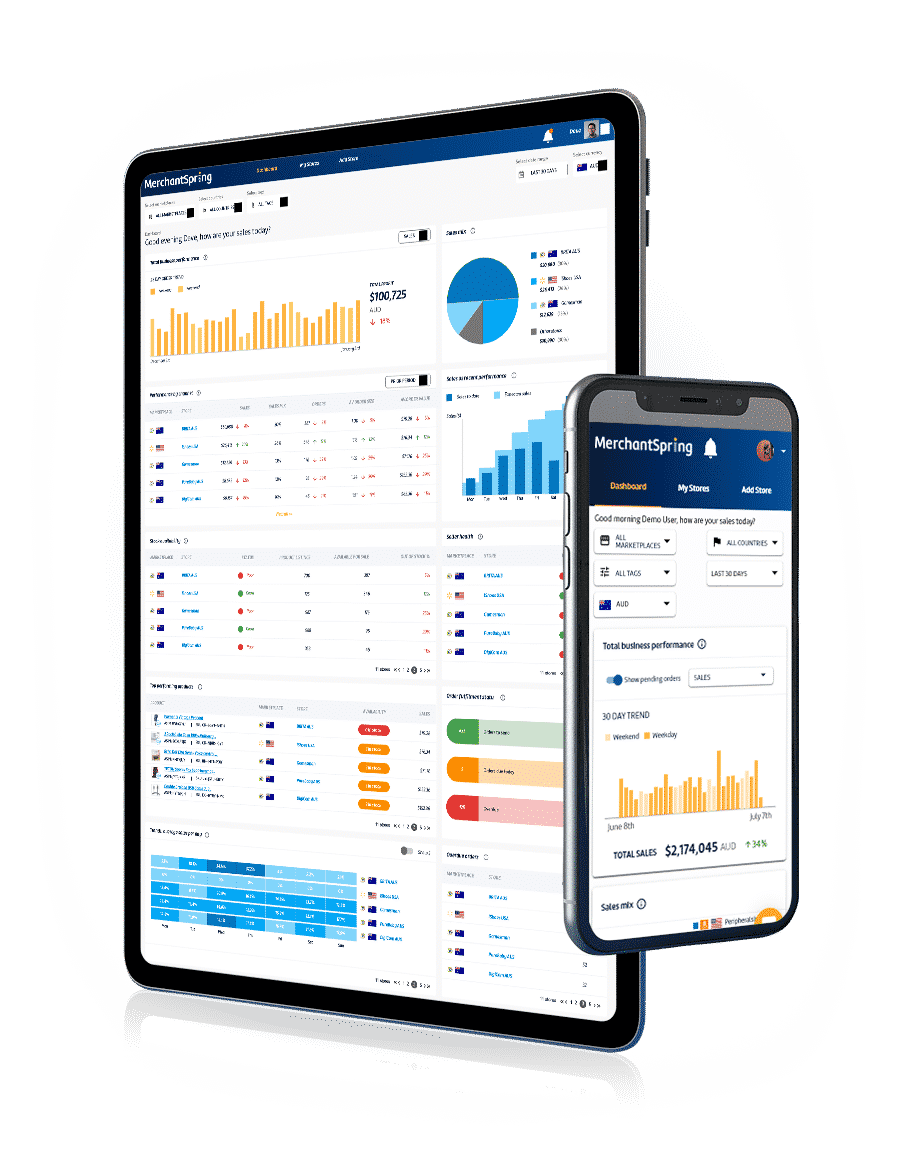 Affordable
No integration required
Connect client stores in minutes
Fix monthly fee, no volume pricing
My team LOVES the system. It is exactly what we needed. We've been focused on monitoring the store health, active inventory, and total portfolio-wide revenue. This solution solved all of those.
Tim Richard
Head of eCommerce & Operations, NextLevel
MerchantSpring was exactly what we needed here at Brandsom to easily manage multiple clients on a variety of marketplaces. We use MerchantSpring to get a full overview of how our clients are performing, this saves us a lot of time every day.
Imco van Elk
Marketplaces Specialist, Brandom
MerchantSpring should be the first thing you look at in the morning and the last thing at the end of the day. The compiled actionable data it displays will show you the next steps you should do to maintain your sales.
Aaron Moore
President, MooreAmazon
This solution makes multiple account management so easy. Being able to see sales trends, monitor store health and keep track of inventory levels in one system saves so much time.
Justin Cataldo
Sell Global
MerchantSpring is a great solution for our team. We are able to generate important insights and access real-time data for our clients with only a couple of clicks. Working with MerchantSpring saves us a lot of time and helps us grow our clients on Marketplaces
Anouck van Rietschoten
Marketplace Specialist, Maze-One
Used by leading marketplace agencies in Europe, North America and Australia






Insights In Action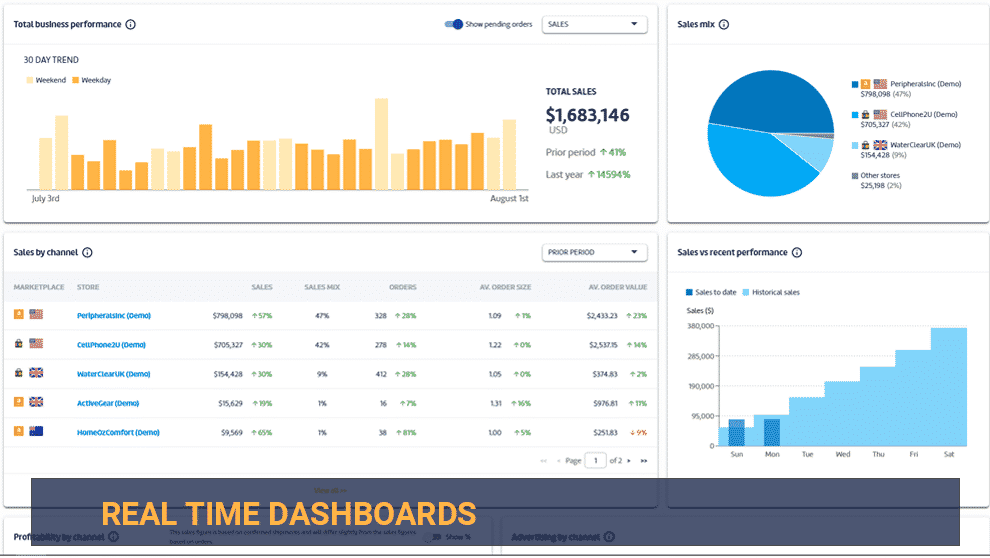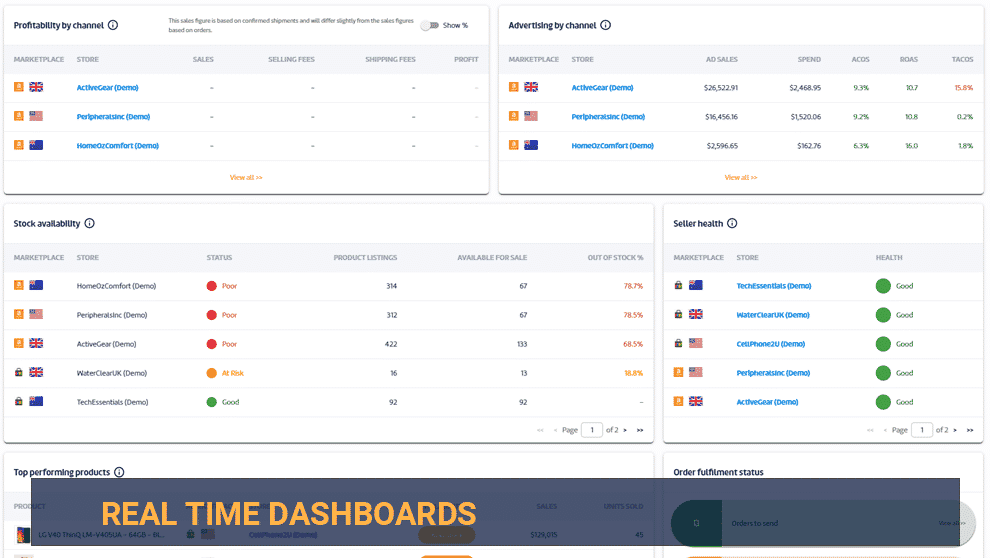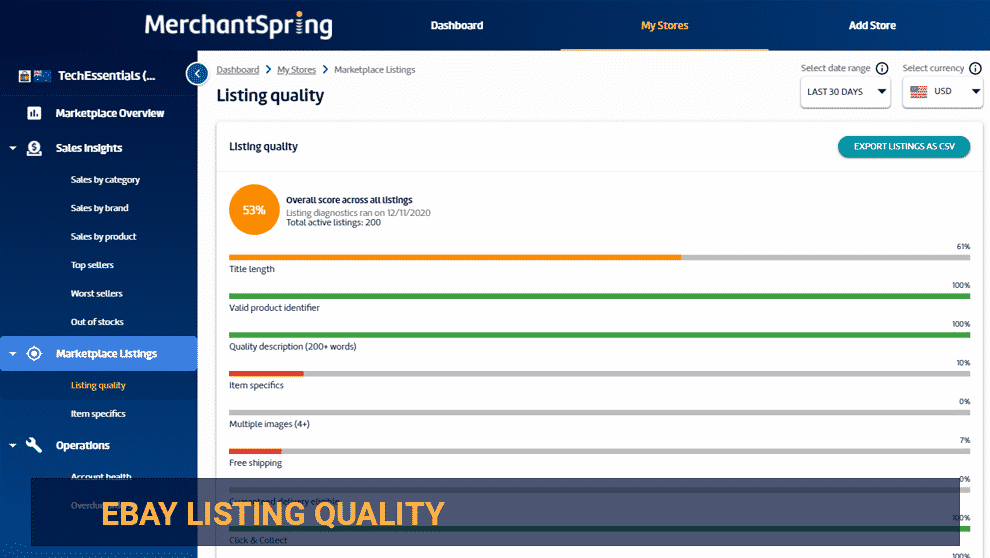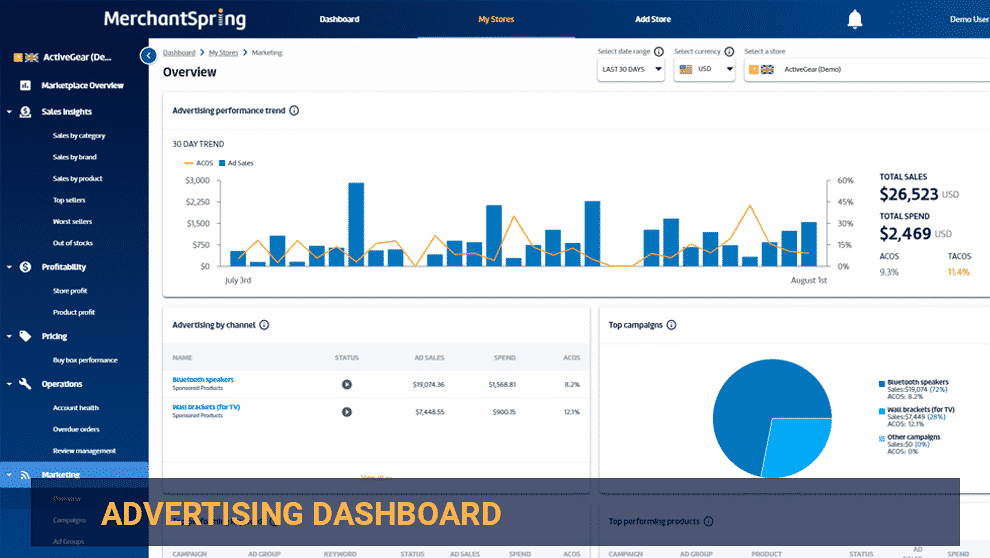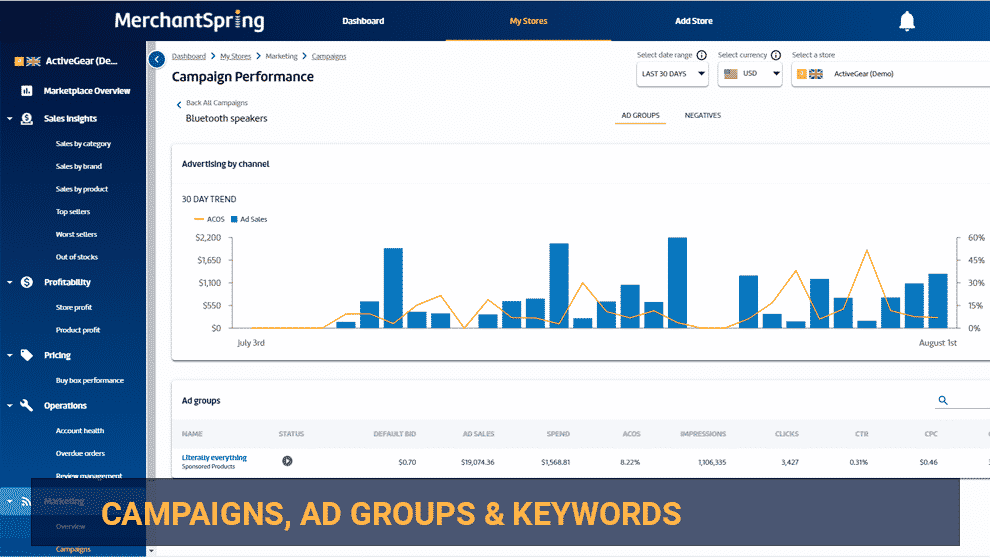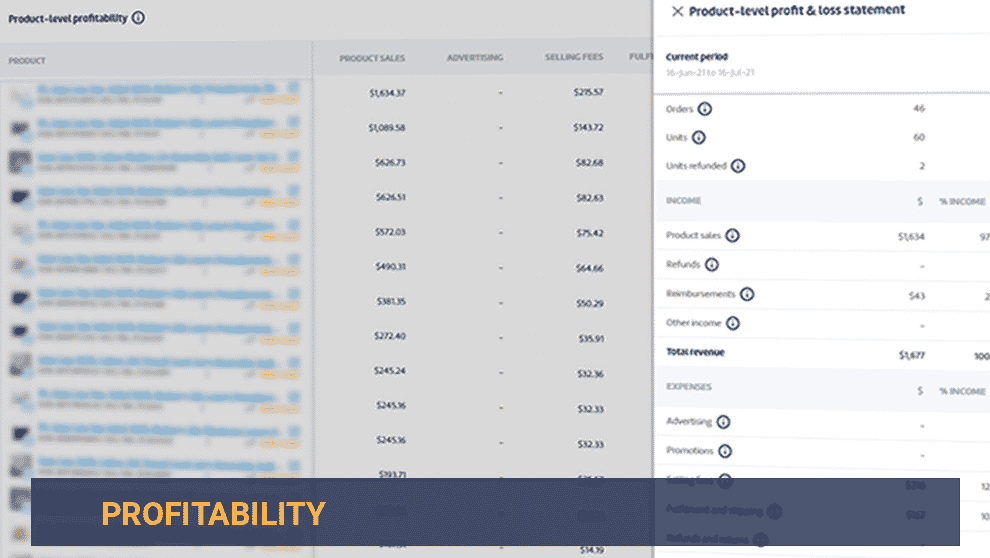 Connect in minutes. Sell Everywhere, Smarter
From United States to Australia. Amazon to eBay. With Marketplace Manager you can connect and optimise your store conversion rates, rankings and listing performance everywhere that matters.
50+ Markets Across The Globe
Powerful Features & Reports

Multi-account dashboard
Single business view
Sales & order trends
Channel mix analysis
Sales & profit comparison
Seller health & operational alerts

Advertising Management
Advertising dashboard
Campaign performance
Keyword / keyword analysis
Advertising metrics incl. TACOS

Review Management
Campaign automation
Manual review solicitation
Review status and reporting

Global connectivity
Unlimited connections
50+ currencies
75+ marketplace platforms

Account profitability
Account profit & loss
Product profitability
Profitability trends

Buybox Management
Performance trends
Competition insights
Management

Sales insights
Sales by category
Sales by brand
Sales by product
Top/worst sellers

Operations Monitoring
Seller health scorecard
Out of stock risks
Fulfilment performance

Listing Quality Improvement
Listing diagnostics
Aspect diagnostics
Attribute editor
Ready to see MerchantSpring in action?
Book a 20-min demo to understand how other marketplace agencies use MerchantSpring.
The questions we are asked most often
How do you compare to integration platforms such as ChannelAdvisor, Sellbrite, eComEngine, etc?
MerchantSpring is a marketplace management analytics and insights platform that works alongside existing marketplace integration solutions such as Channel Advisor, Intelligent Reach, Sellbrite. MerchantSpring provides enhanced information, analytics and reporting capability to complement your existing integration software.
How much time and resource do you need to deploy your software?
Our software is a self-service solution. A typical store (e.g. Amazon) takes 30 seconds to connect. Performing the initial data sync ranges from 5 minutes to 24 hours, depending on the store's size. There are no upfront costs.
I can't find the marketplace I am looking for.
We currently support over 70+ different marketplaces across the globe and are always adding new ones. If the marketplace or channel you are looking for isn't there, please let us know. We'll happily add it to our development pipeline.
How do you integrate with the marketplaces?
MerchantSpring integrates directly with the marketplaces via REST APIs. We have formal developer partnerships in place with most platforms, including Amazon, eBay, Walmart, Mirakl, and Shopify.
Do you support Amazon Advertising?
Yes. We are an official Amazon Advertising API partner. You can link your advertising account via the overview screen in the marketing section.
How many accounts can I connect simultaneously?
Our large marketplace agency customers manage 250+ stores within a single account without problems.
My integration software already shows me sales performance. Why do I need MerchantSpring?
Starting life as a full-service marketplace agency ourselves, we found that most integration platforms lack the sophisticated reports we needed to manage our business. Instead, we spent many hours logging onto Seller Central and other marketplace back-ends to perform custom admin and analysis. We developed our platform to cut administrative time and provide our marketplace experts with the insights required to grow sales for our clients.