Intuitive Multi-Country Amazon Vendor Central Dashboards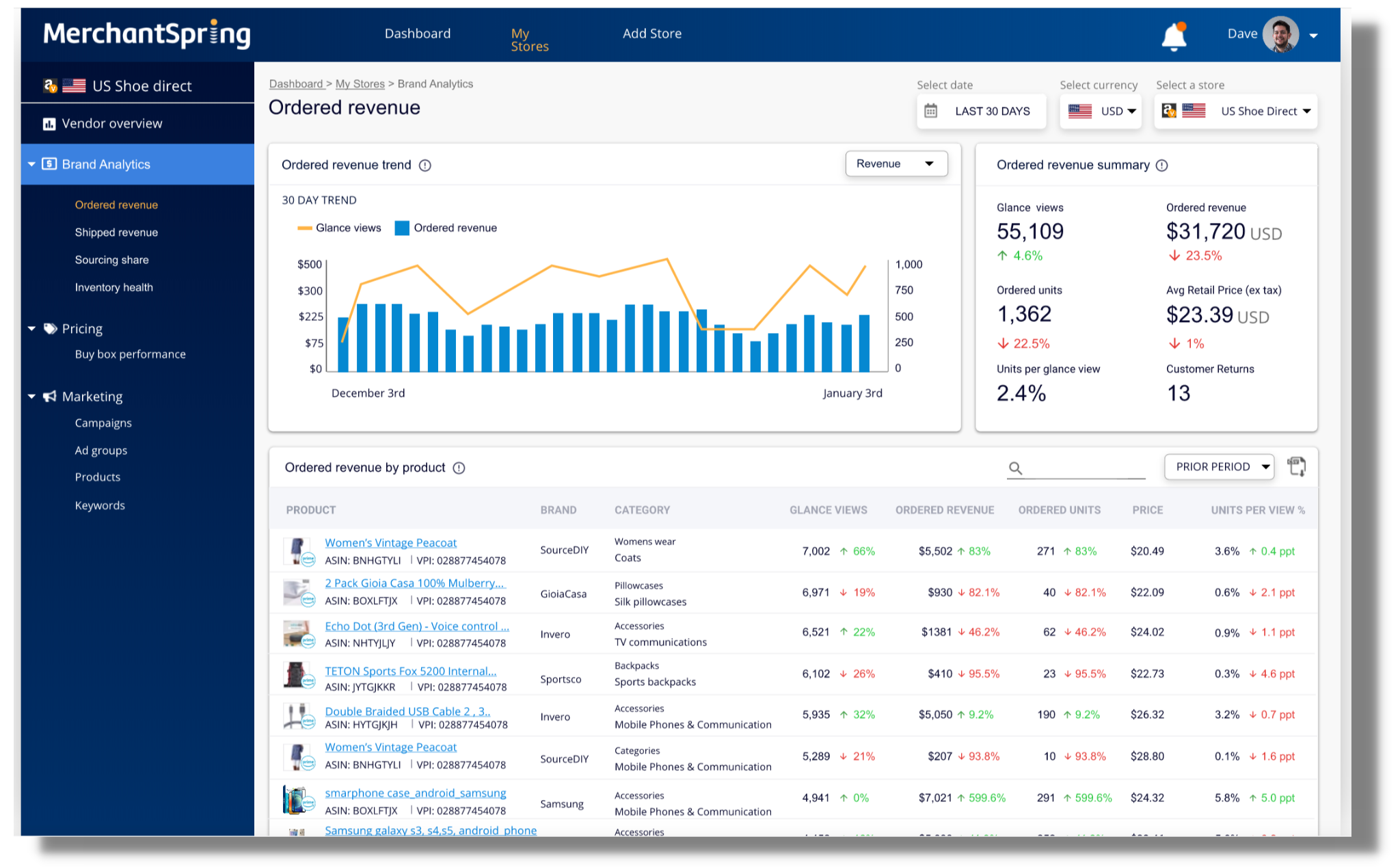 Strategic Insights At Your Finger Tips
Build a clearer picture of your consumer's behaviour on Amazon. Utilise Amazon's traffic and conversion metrics to:
Understand product trends

Identify optimization opportunities

Inform advertising strategies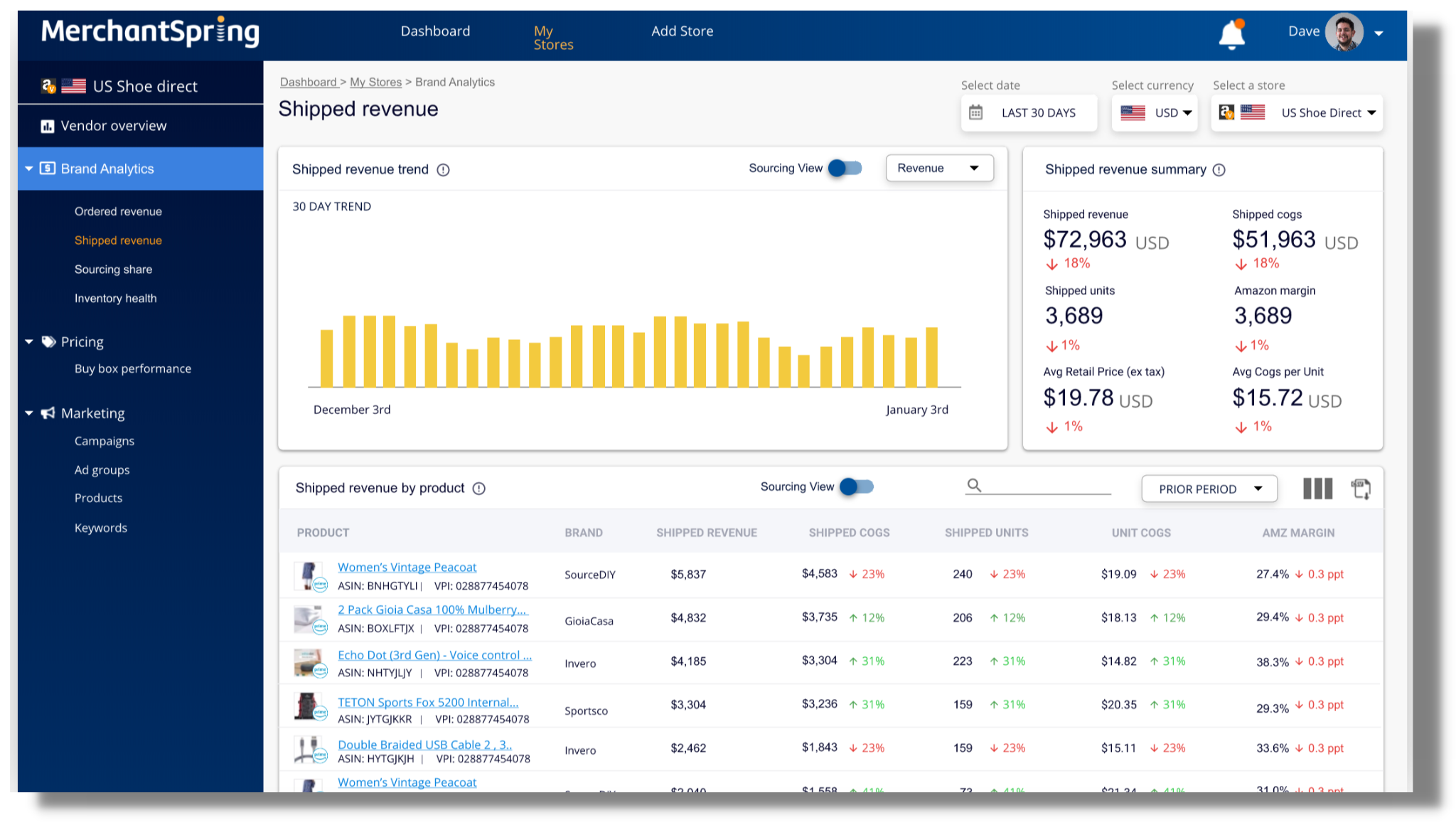 Granular Sell-Out Performance
Analyze your shipped cogs, units, and revenue performance for each ASIN in your Amazon Vendor Central account.

Monitor Amazon's Profit Margin for your products and overall account.

Customize Your Net PPM reporting

Toggle between Sourcing and Manufacturing.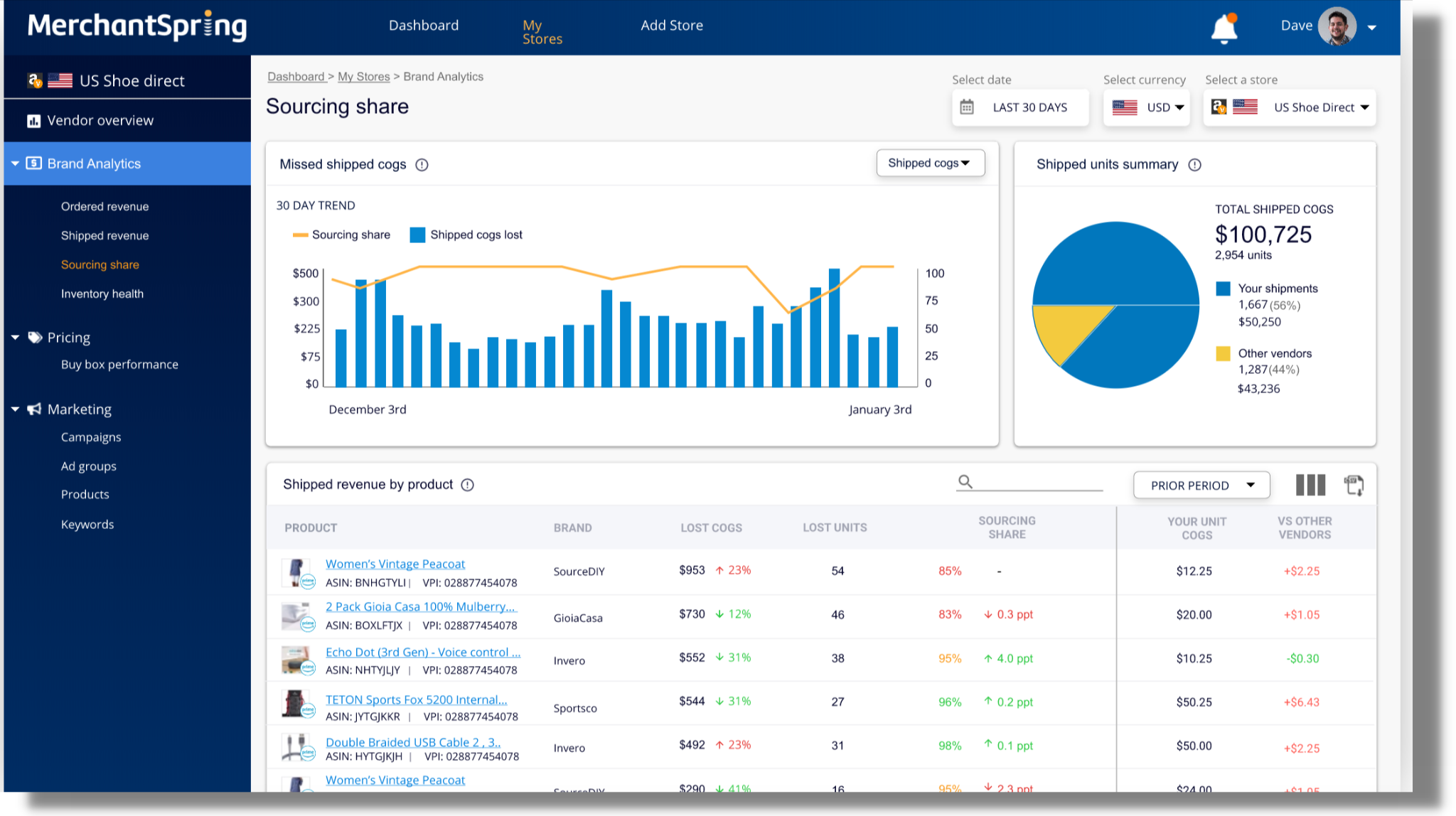 Sourcing Competition and Arbitrage
Discover where Amazon is sourcing inventory from a competitor.

Identify which products represent the most significant opportunity to regain lost units.

Understand unit cogs differences that are driving Amazon's sourcing decisions.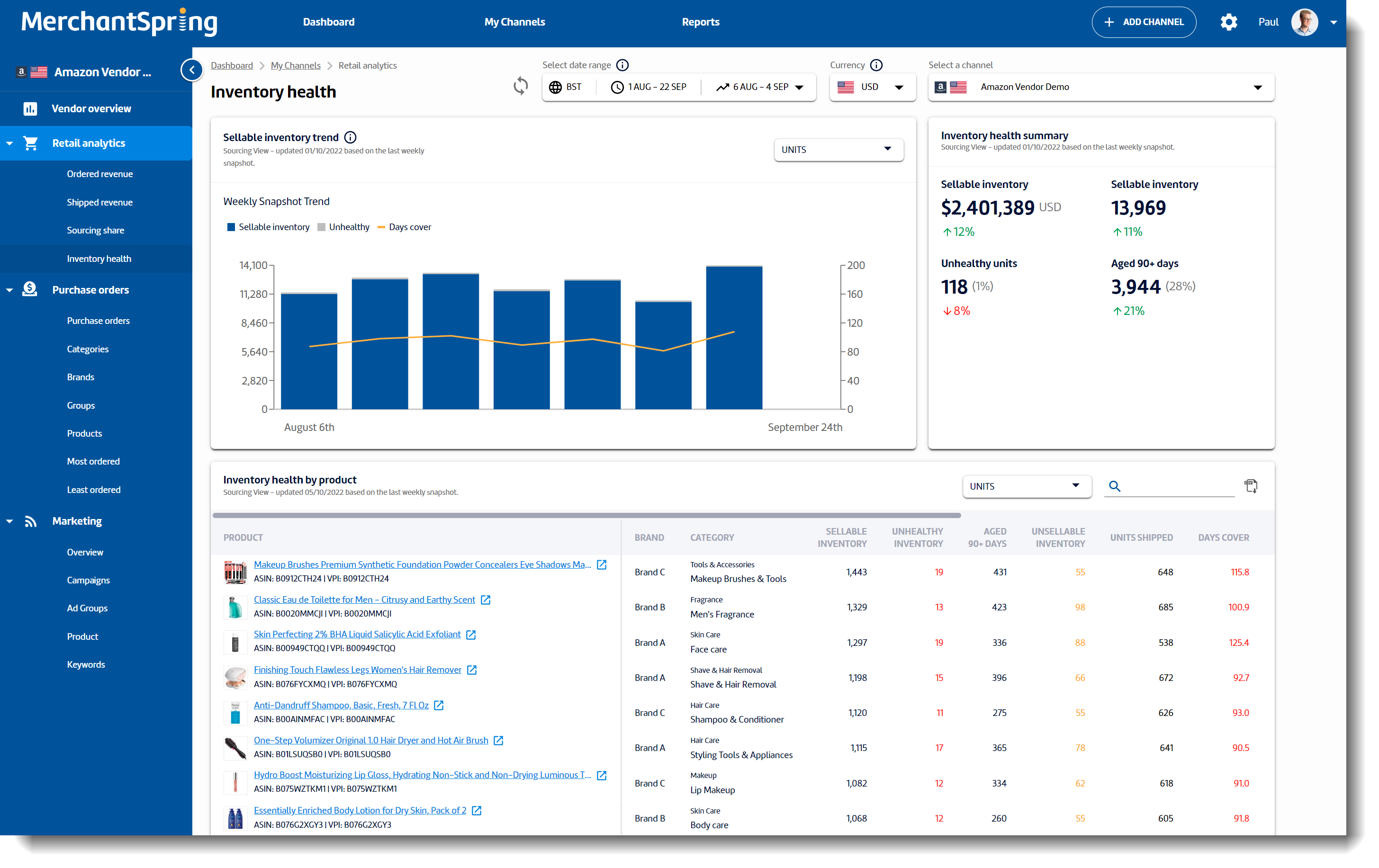 Early Warning Signals
Manage your inventory inside Vendor Central to address issues early.

Predict Amazon's behaviour by understanding Days Cover, Aged and Unhealth Inventory, and Open Purchase Orders by ASIN.

Monitor Fill Rates and Vendor Lead Times to spot necessary supply chain improvements.
Testimonials
"Vendor reporting has always been a point of frustration for us as an agency. MerchantSpring has transformed the speed and accuracy of our reporting and is having a huge impact on client satisfaction and team effectiveness"
Having access to the right data is critical to improving sales and margins with Amazon. MerchantSpring's Vendor Analytics makes it very easy to get started and monitor your performance over time!
"We have switched to MerchantSpring for all our Vendor reporting. The reports are much more intuitive than anything else on the market. It was a no-brainer for us."
"With the help of MerchantSpring, our agency has saved hours of time from tedious data entry for our client reporting. We have never been able to track Vendor sales and POs as accurately before!"
Additional Features for Amazon Vendor Central Users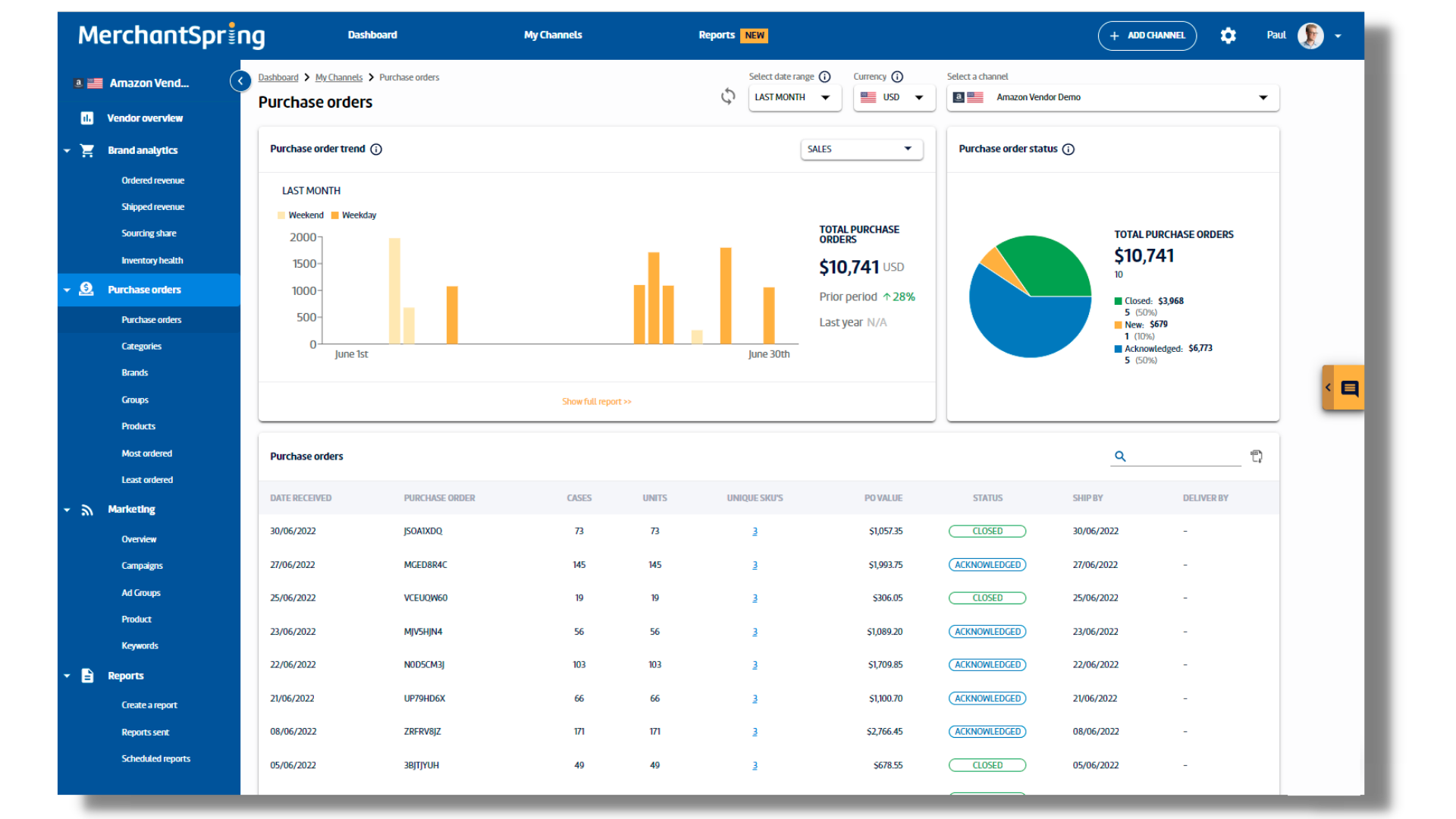 Purchase Order Insights
Understand Amazon's behaviour in placing purchase orders for your vendor account.

Identify long-term trends, most and least ordered products as an ASIN, category and brand level.

Monitor the status of your Purchase Orders and perform custom analysis to meet internal business requirements.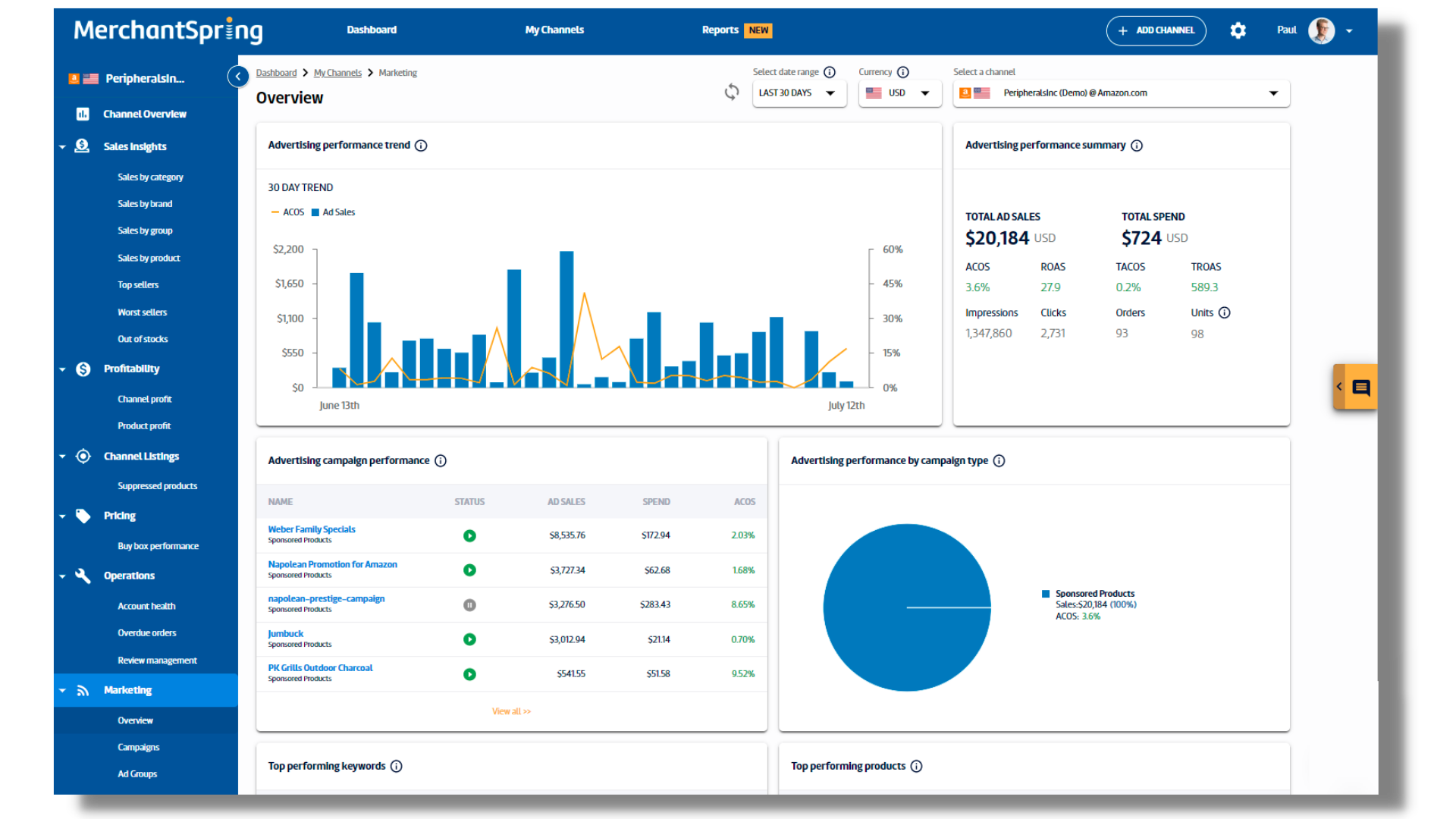 Amazon Advertising
Build the complete picture by linking your Vendor Advertising Account.

Access the same set of reports and insights available to seller accounts.

Drill down into campaign types, products, ASINs, and search terms.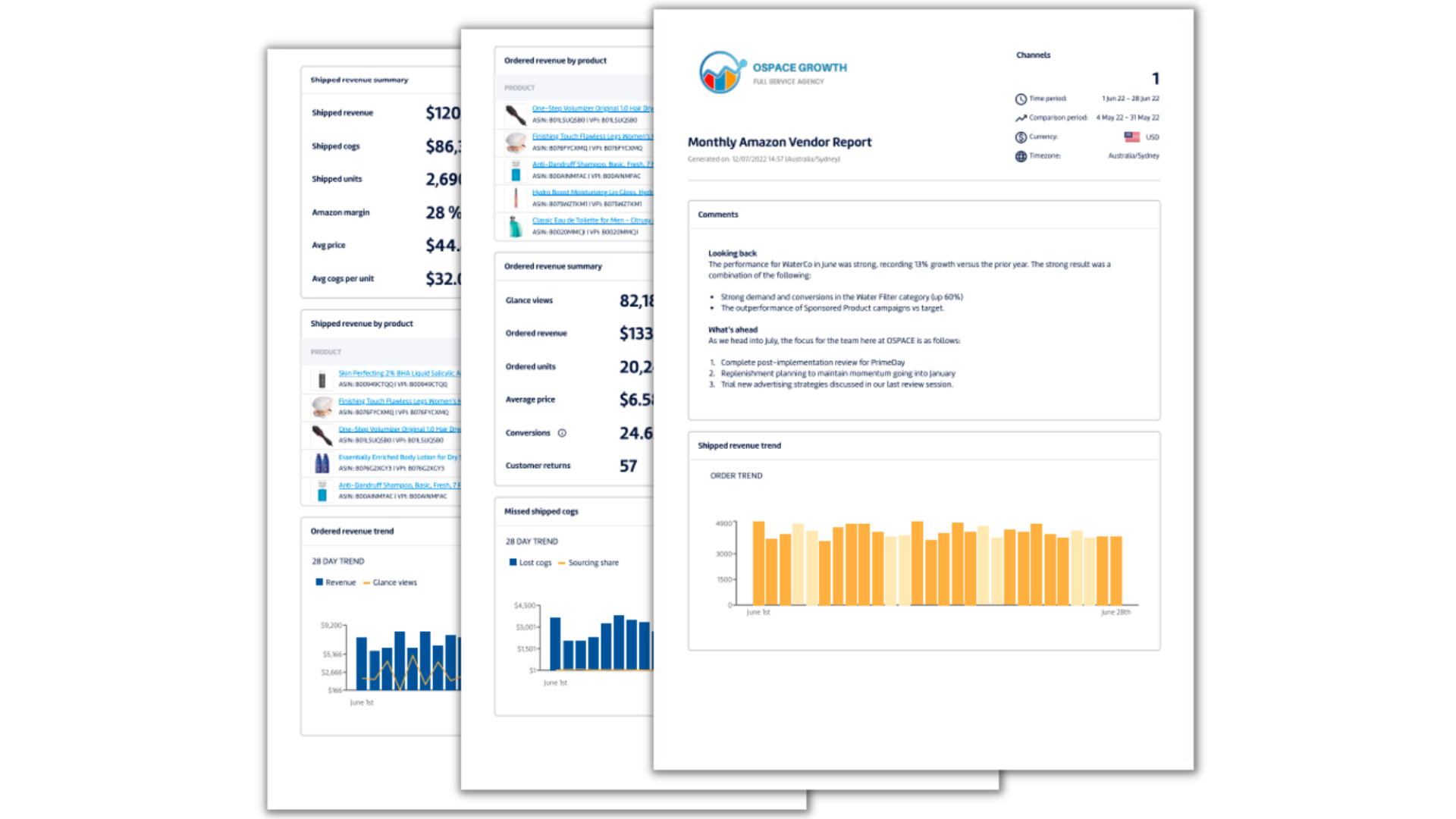 Automated Vendor Reports
Configure highly customized reports within minutes.

Include commentary and schedule reports for automatic delivery on a daily, weekly or monthly basis.

Available in dynamic HTML or PDF.
Frequently Asked Questions
How much does Amazon Vendor Analytics cost?
Our monthly pricing for Amazon Vendors is USD399 per month. See our pricing page for further details and inclusions.
How long are your contracts?
All of our plans are month to month unless you sign up for an annual plan.
What's involved in connecting an Amazon Vendor account?
MerchantSpring uses Amazon's Selling-Partner APIs which means you can connect your Amazon accounts using our Amazon username and password. It takes approximately 20 seconds to connect your account.
Can you retrieve historical information?
For those on Standard Agency and Premium Agency plans, MerchantSpring can retrieve 24-months of historical data.
Do you support Amazon Advertising?
Yes. We are an official Amazon Advertising API partner. You can link your advertising account via the overview screen in the marketing section.