Aggregate, Analyse, and Visualise Your Amazon Vendor Central Metrics
on Single View, Multi-Country Dashboards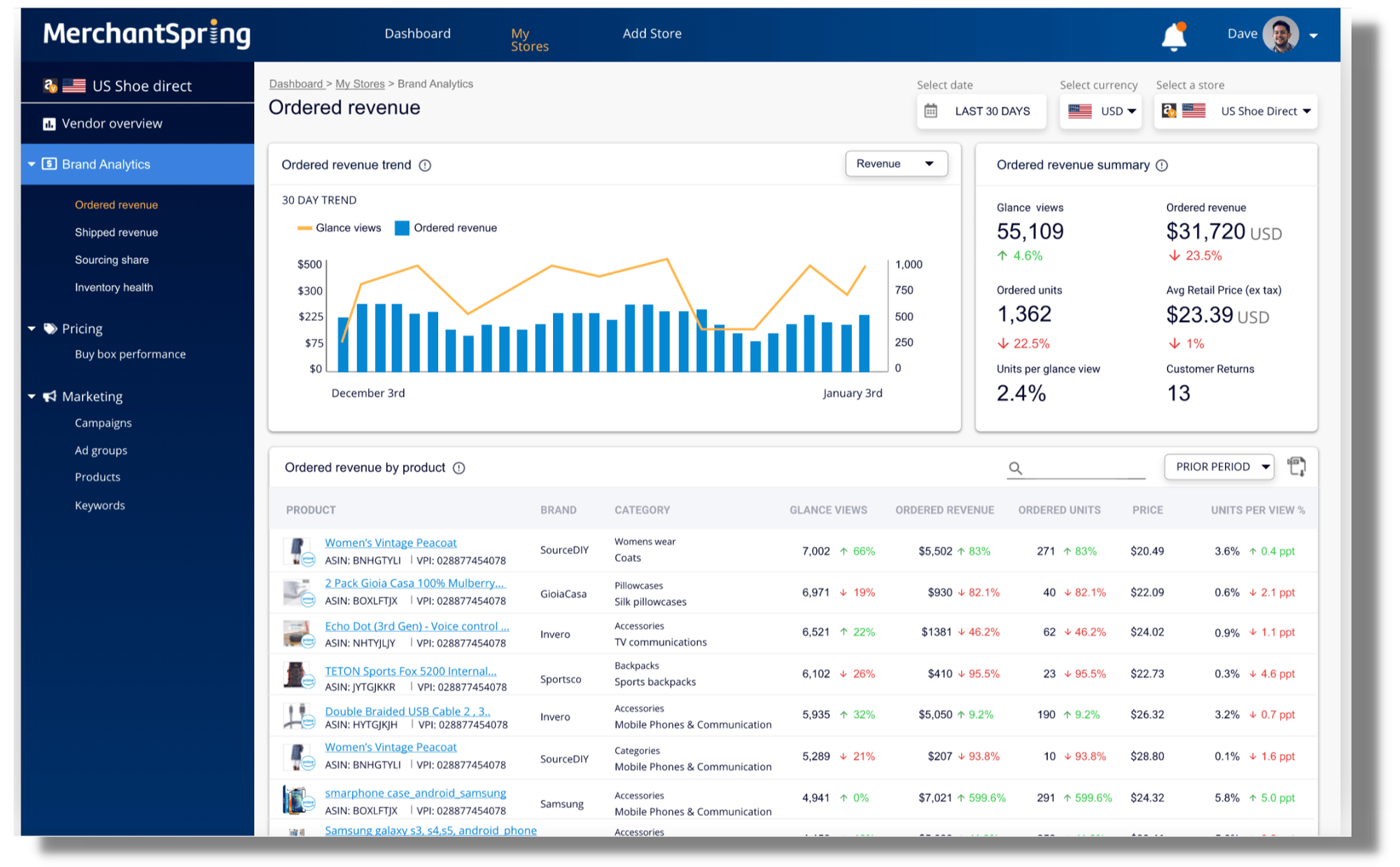 Key Benefits of Using Strategic Insights
Understand your consumer's behaviour and maximise revenue by utilising Amazon's traffic and conversion metrics to:
Quickly recognise product trends and their impact
Identify key optimisation opportunities like seasonal trends, slow movers, and stocking issues
Create data-driven advertising strategies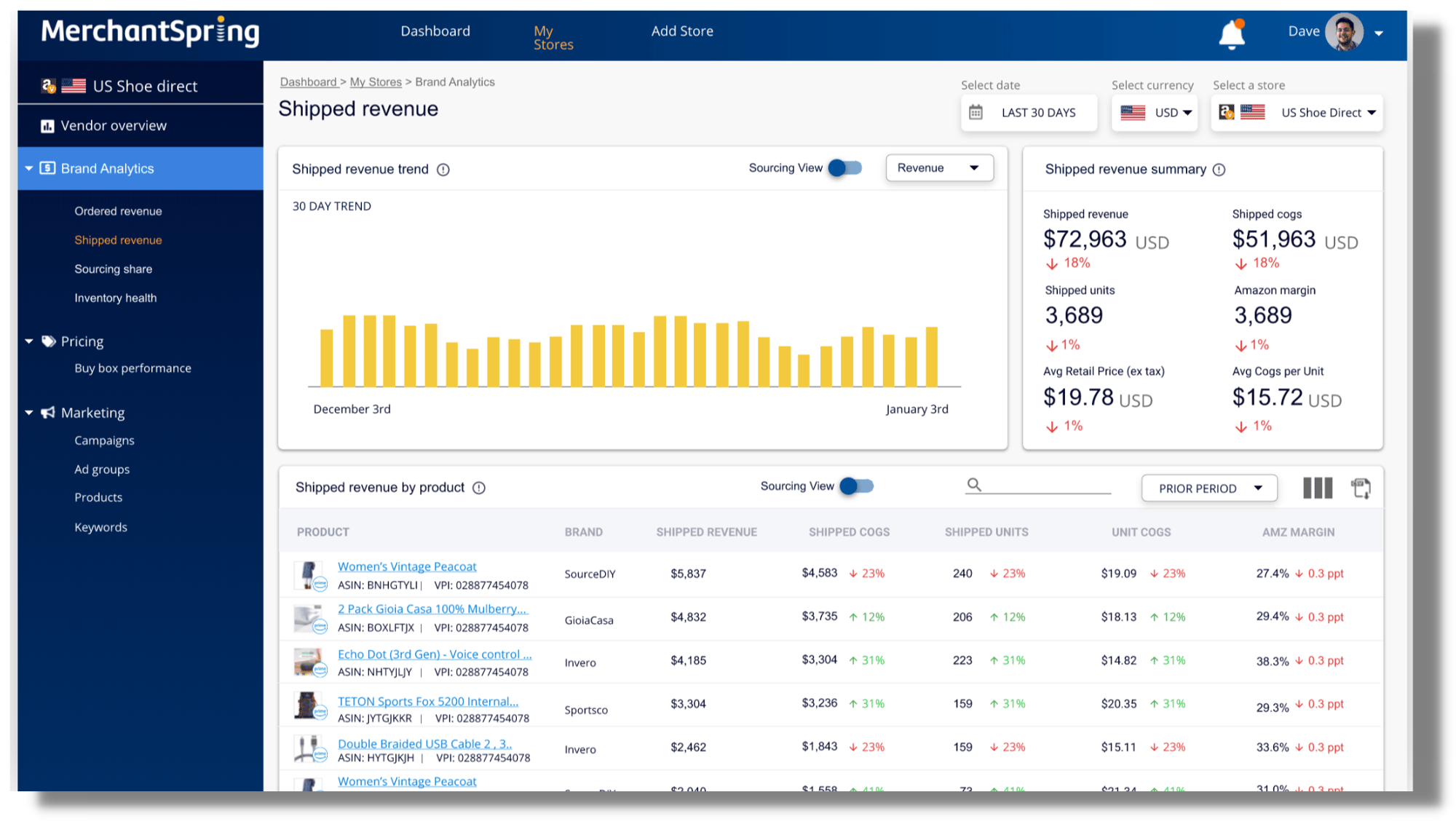 Granular View Of Sell-Out Performance Data
View shipped cogs, units, and revenue performance for each ASIN in your Vendor Central account on your MerchantSpring dashboard.
Monitor Amazon's profit margin for your products and overall account.
Customise your Net PPM (pure profit margin) reporting.
Effortlessly toggle between Sourcing and Manufacturing.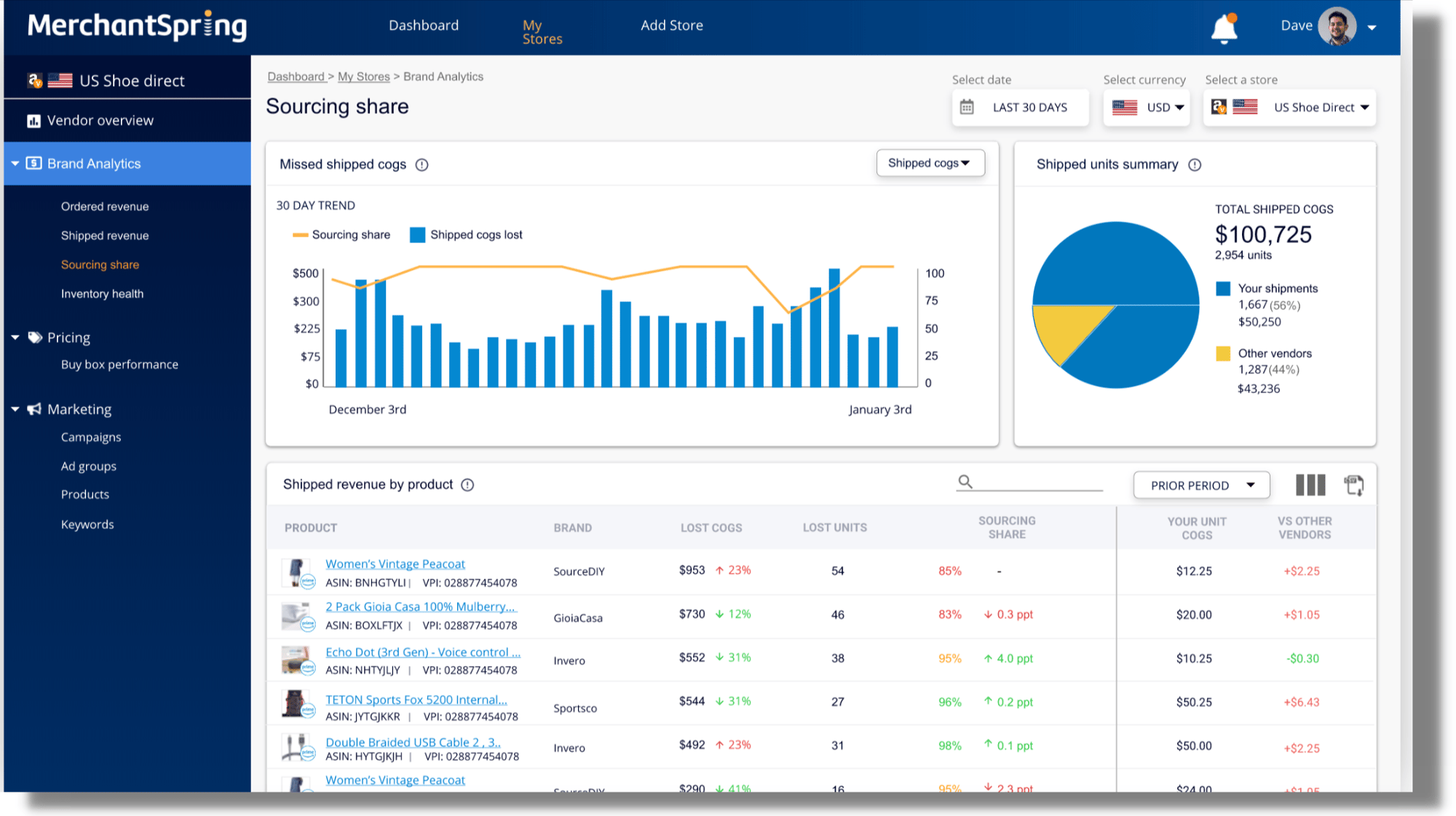 Excel in Sourcing & Arbitrage: Outpace The Competition
Discover products and niches where Amazon sources inventory from a competitor.
Identify products with the most
potential to regain lost units.
Understand unit cogs differences that drive Amazon's sourcing decisions.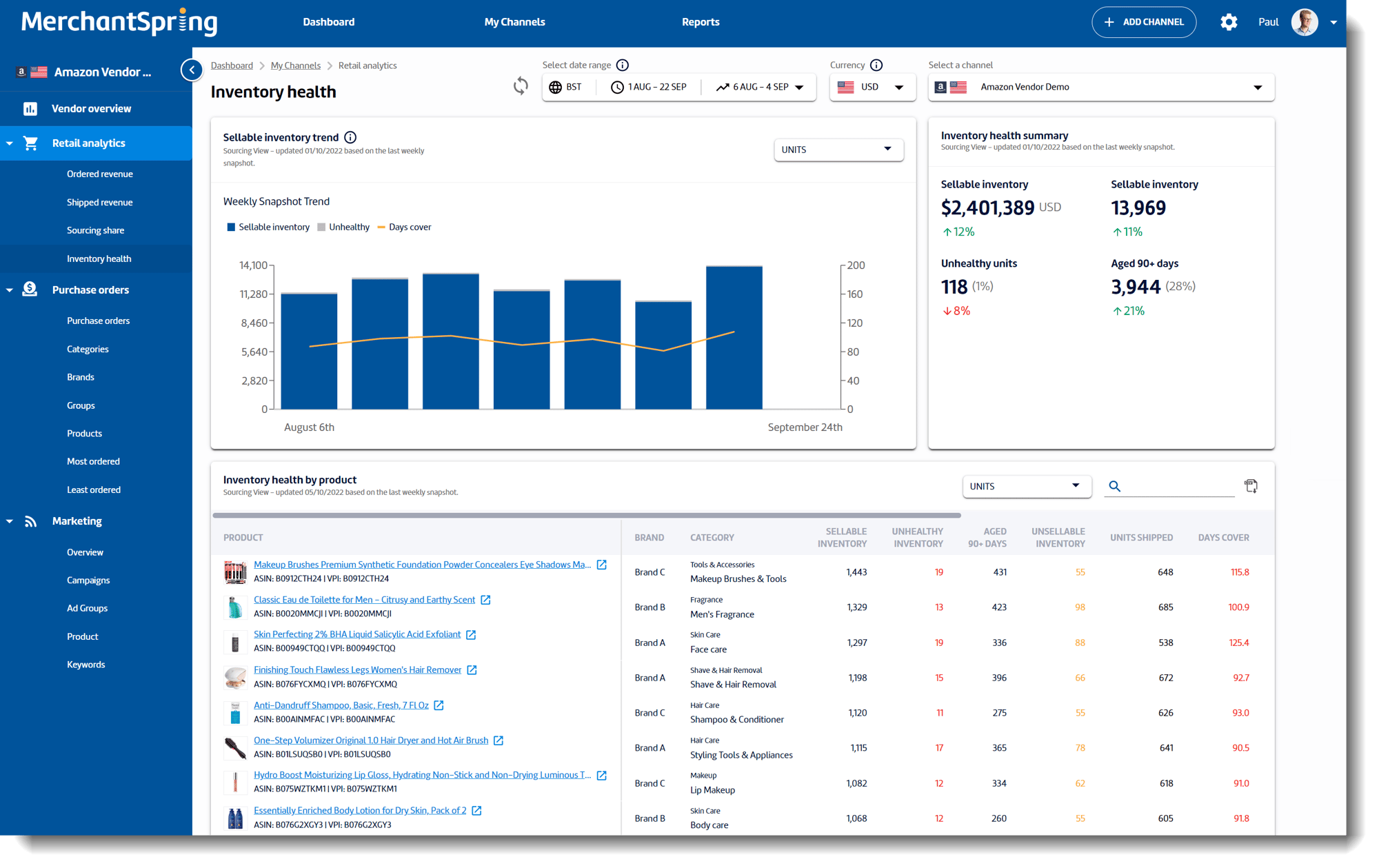 Benefit From Early Warning Signals in Predictive Analytics
Avoid business missteps by quickly addressing potential issues in inventory, purchase orders, or other discrepancies.
Predict Amazon's behaviour by understanding Days Covered, Aged and Unhealthy Inventory, and Open Purchase Orders by ASIN.
Monitor Fill Rates and Vendor Lead Times for supply chain improvements.


Join the Roster of Satisfied MerchantSpring Clients
"Vendor reporting has always been a point of frustration for us as an agency. MerchantSpring has transformed the speed and accuracy of our reporting and is having a huge impact on client satisfaction and team effectiveness"
Having access to the right data is critical to improving sales and margins with Amazon. MerchantSpring's Vendor Analytics makes it very easy to get started and monitor your performance over time!
"We have switched to MerchantSpring for all our Vendor reporting. The reports are much more intuitive than anything else on the market. It was a no-brainer for us."
"With the help of MerchantSpring, our agency has saved hours of time from tedious data entry for our client reporting. We have never been able to track Vendor sales and POs as accurately before!"
Additional Features for Amazon Vendor Central Users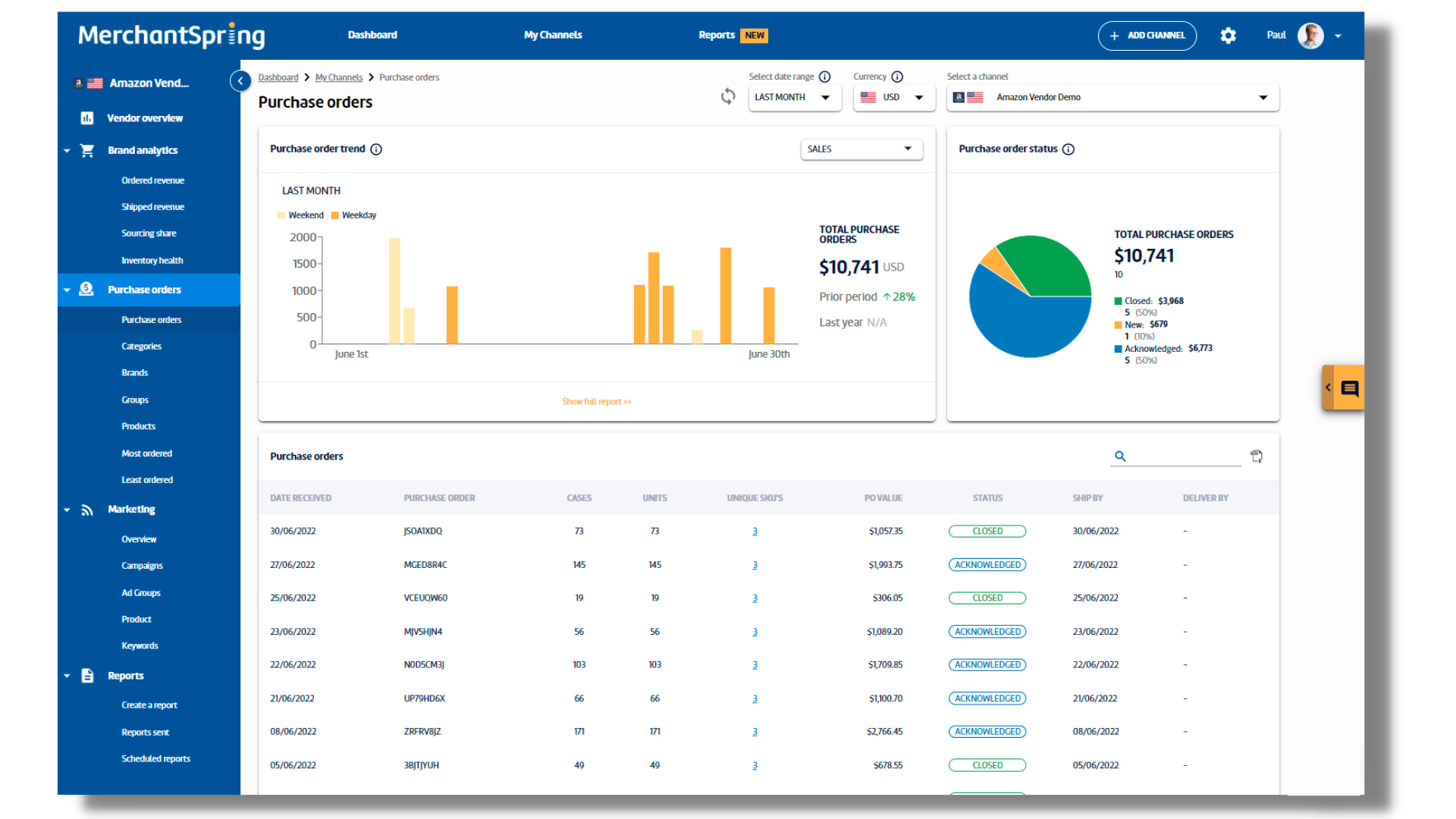 Spot Strategic Opportunities with Purchase Order Insights
Understand Amazon's purchase behaviour for informed strategies in your vendor account.
Identify long-term trends as well as the most and least ordered products on ASIN, category, and brand levels.
Monitor purchase order status and conduct tailored
analysis to align with internal business needs.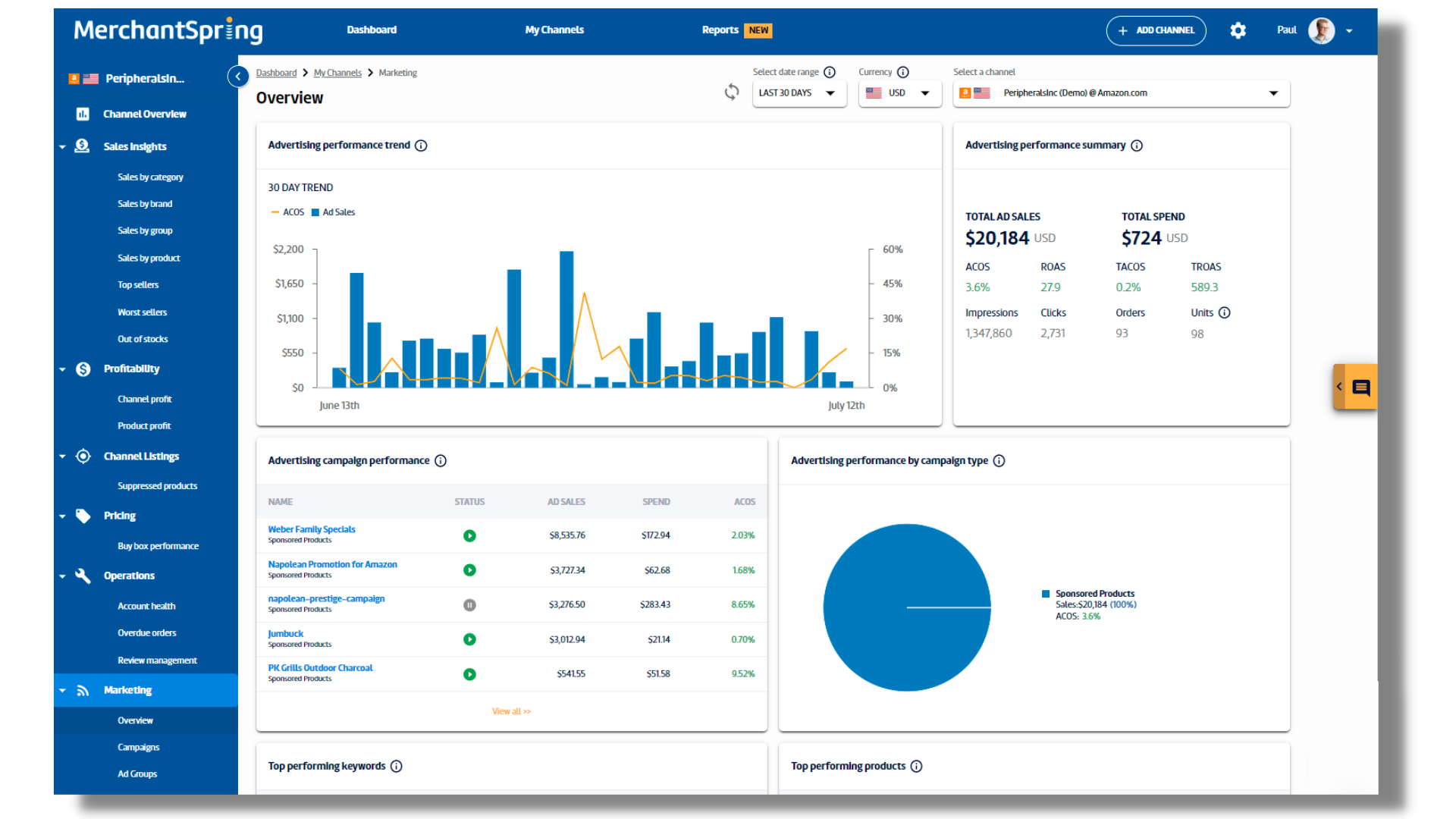 Boost Your Amazon Advertising Campaigns
Link your Vendor Advertising account to see your overall performance at a glance.
Get access to similar reports and insights accessible to Amazon Seller accounts.
Drill down into campaign types, products, ASINs, and search terms.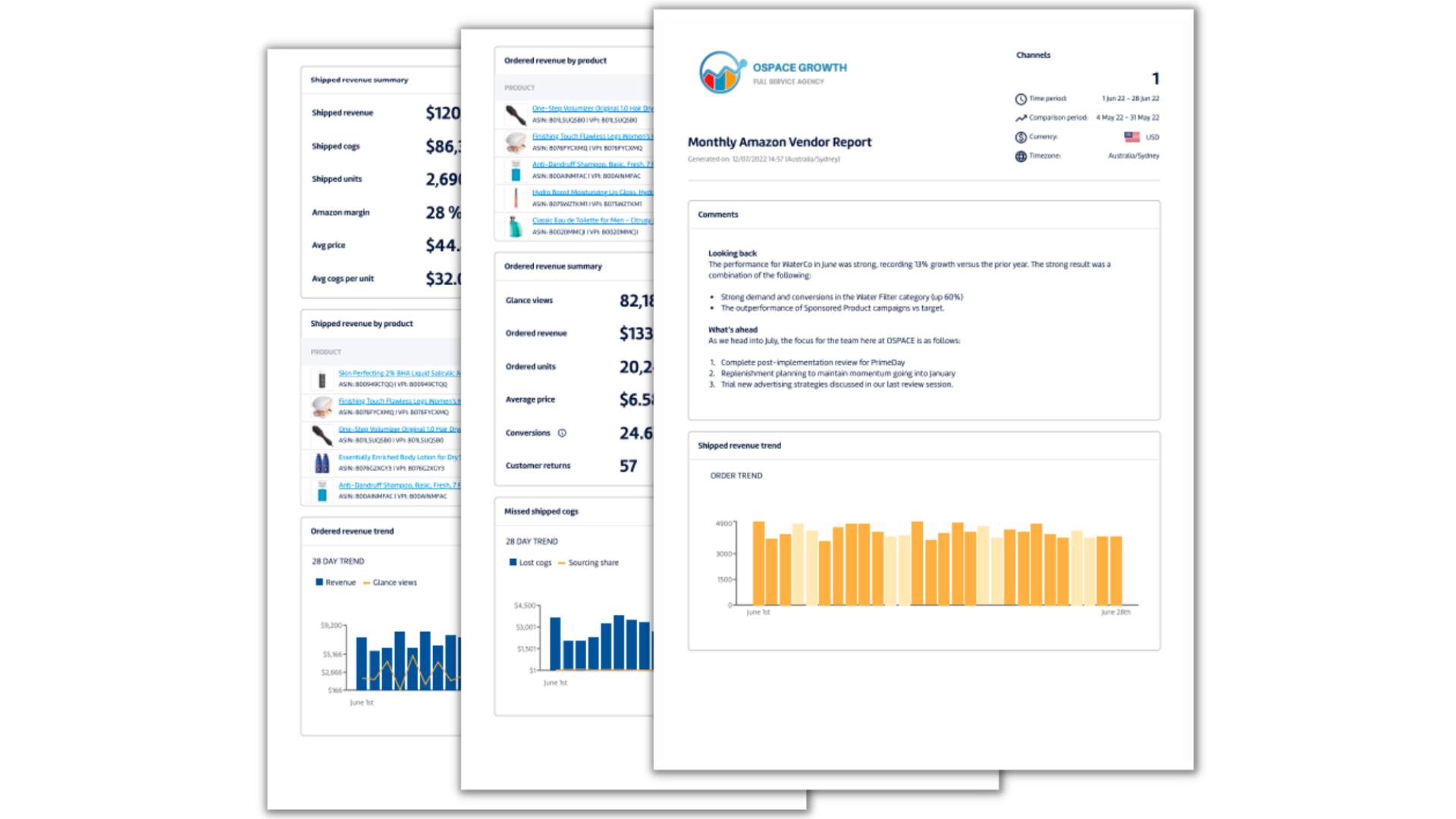 Save Time With Automated Vendor Reports
Configure highly customised reports within minutes.
Include commentary and schedule reports for automatic delivery on a daily, weekly, or monthly basis.
Available in dynamic HTML or PDF format.
Frequently Asked Questions
How much does Amazon Vendor Analytics cost?
Our pricing for Amazon Vendors is USD 399 per month. The monthly fee includes 12 channels, sales and pricing, seller health, advertising, and more.
How long are your contracts?
All of our plans are month-to-month. That means you can cancel your subscription any time before your next monthly payment is due. However, you may sign up for an annual plan (with a 20% discount) if you prefer a long-term arrangement with MerchantSpring.
What's involved in connecting an Amazon Vendor account?
MerchantSpring uses Amazon's Selling-Partner APIs (application programming interface). This means you can connect your Amazon accounts to your MerchantSpring account using our Amazon username and password. The process takes approximately 20 seconds.
Can you retrieve historical information?
Yes. If you are on our Standard Agency, Premium Agency, or Vendor plan, we can retrieve 24 months of your historical data. For Brand accounts, our data retention is 12 months.
Do you support Amazon Advertising?
Yes. We are an official Amazon Advertising API partner. You can link your advertising account to the MerchantSpring software directly and in seconds. The access is available on the overview screen in the marketing section of your MerchantSpring account.
My Amazon Vendor Central account already shows me the critical metrics and provides business reports as well. Why do I need MerchantSpring?
The MerchantSpring team used to be a full-service marketplace agency. During that stint, we discovered that Amazon Vendor Central lacks the sophisticated reports needed to efficiently manage vendor clients' businesses. This required logging onto Amazon Vendor Central to perform custom admin and analysis, which was both time and effort intensive.
We decided to develop a platform capable of cutting down administrative time and providing marketplace experts with the insights required to increase sales for clients — even those with multi-country vendor accounts.
You, too, can benefit from the time-saving and cost-effective advantages of adding MerchantSpring to your Vendor Central management suite.
Increase Revenues, Minimise Losses
Tracks All Facets of Your Amazon Vendor Central Account With MerchantSpring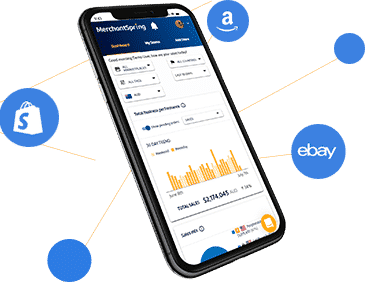 Learn more in our FREE product demo!
Witness first-hand how MerchantSpring can help you streamline insights and reporting for your e-commerce portfolio. Watch it LIVE!